WeSUP - Stand Up Paddleboarding
Stand Up Paddleboarding (SUP) is a relatively new sport which saw an increase in popularity during the Covid lockdown. Not surprisingly there has been a surge of interest in SUPs and iSUPs (Inflatable SUPs) at the club. It is an ideal way to get out on the water – especially on those warm sunny days when there is little wind for sailing. And it provides a pleasant way to get fit outdoors. 
Stand Up Paddleboarding at NCSC is restricted to water use category Club members or visitors invited by Members (for which there are restrictions).
If the weather conditions are favourable (i.e.not too windy), SUP users can use the water when it does not conflict with organized racing/training or Open Water swimming on the small lake.
Circumnavigating the large lake is approximately 3.9kms and takes approximately 1 hour at a moderate pace. The small lake is ideal for starting out. If you have not SUPped before, it is more sheltered and doesn't get as much wind as the large lake.
There are however some restrictions, for all water users in accordance with the terms of the club's lease as detailed below:
February to end of September (Main season) – water users can access the water on any day of the week
October to end of October – water users can only use the water on Wednesdays, Saturdays or Sundays, plus Notts schools half term week
November to 2 February – water users can only use the water on Wednesdays and Sundays.


Occasionally there are additional days allowed these are outlined in the monthly newsletter or SCM.
Stand Up Paddleboarding takes place on an informal basis. However, Wednesday evenings have now been designated as a dedicated board night so if the wind isn't too strong this would be a good time to join others down at the club.
The WeSUP group is useful for sharing tips and ideas on paddleboarding, looking at trips to other locations to try out paddling on rivers etc, coaching opportunities to improve skills, self-rescue or even just getting started.
Six members took part in a British Canoeing, SUP Safer course in August 2022 at the club. It was a great chance to improve skills and find out ways for rescue and recovery – highly recommended for those just starting out on their SUP adventure.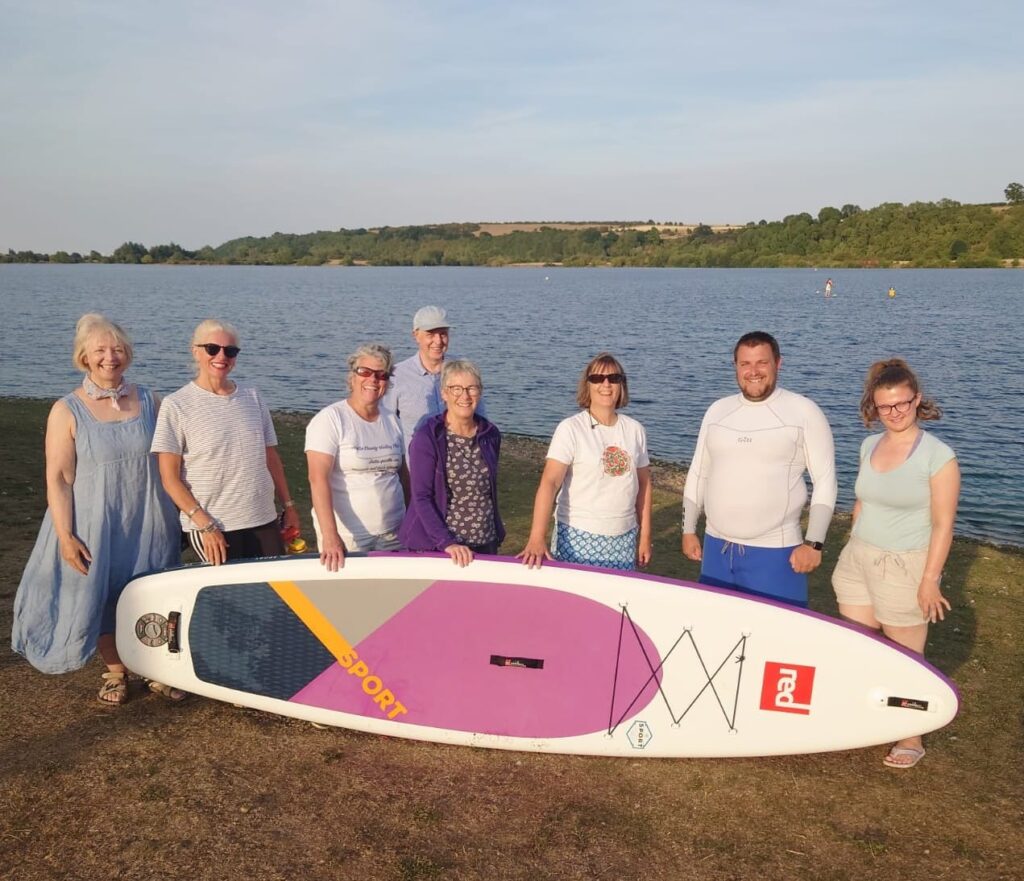 In hot weather there has been an instance of an exploding SUP at the club which had been left out in the sun. Please take care where you leave your inflated board and protect it from the heat – see link here
Important
Please note the following:
All SUP users MUST wear a waist or ankle leash at all times when on their board on the water, along with an approved Buoyancy aid or EN ISO certified Personal Flotation Device (PFD).
Anyone not complying with this policy will be required to leave the water.
Please ensure that you are suitably dressed in case you have an unexpected dunking in the water.
If you wish to bring a guest to SUP at NCSC the same rules apply as guests for sailing. Please see the club rules
If you have an iSUP or SUP and are interested in getting out on the water please email – Moira Hart – at wesup@ncsc.org.uk with your mobile number so you can be added to the weSUP Whats App group to keep you informed on what is going on SUPwise.
SUP users must be insured – RYA or British Canoeing membership can provide suitable cover.
Moira Hart – SUP co-ordinator