RYA Training Centre SOP - v3 - March 23
Contents:
SOP (below) key control measures in response to Risk Assessments 

Introduction (yellow background) to RYA Training Centre operation

Tuition (blue background – below


Organisation (green) – bottom of page
Operating Procedures for the centre
Sailing area and hazards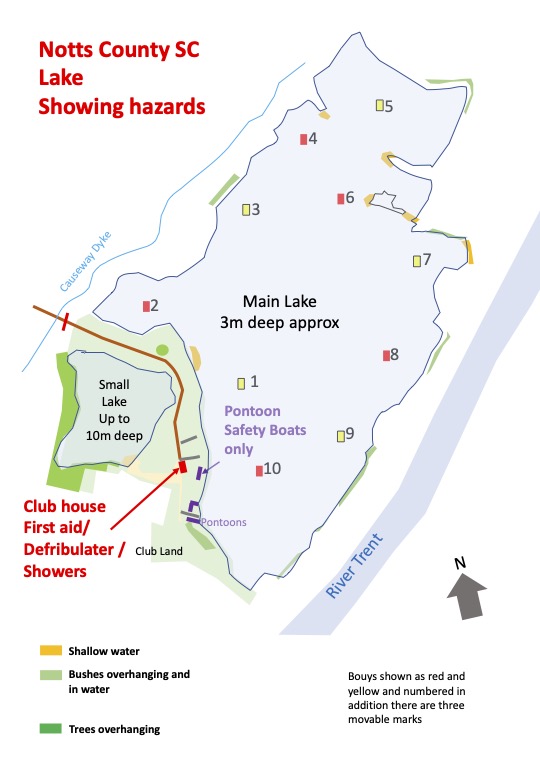 Both main and training lakes can be used for training, the plan of the lake shows potential hazards.
SOP 1 – General Instructor responsibility and water safety
Senior Instructor / Powerboat Instructors must assess conditions and weather forecast and discuss with instructors recording any deviations from the SOP or course plan.

RYA instructors are responsible for students. RYA teaching principles and syllabus should be used, including student / instructor ratios. Instructors shall be trained in accordance with RYA requirements and have appropriate in date certification, along with undertaking relevant updates. 

Consider moving rig components, ropes & sheets, and mitigate risks from them. Consider trapping of participants' hands, feet etc on shore and on water.

All should comply with club rules, instructions and policies.

Conditions: Instructors must recognise the risk caused by prevailing weather conditions and mitigate the risk as far as reasonable by using appropriate equipment and teaching methods in consultation with Senior Instructor (where applicable). Teach signal for help early in course.
Clothing: The Instructor must ensure all participants, instructors and safety crew have correctly fitting buoyancy aids. Safety crew should be dressed for entering the water. Advise participants before course about suitable gear, check clothing is appropriate to  the syllabus being delivered, including footwear. Participants should be advised on availability of helmets.  Candidates in unsuitable clothing should not be allowed afloat. 
On water training activity must have safety cover in line with the current RYA recommendations as a minimum.

 

Any injuries or near misses must be assessed and treated in line with current RYA and Club protocols, and First Aid training see SOP 3.

Ensure breakages are reported to SI/Bosun and 'quarantine' labels are tied to damaged equipment.

 

Any participant with additional needs should be risk assessed and appropriate techniques used with regard to tuition, communication, assistance and adaptation.
Additional Windsurfing:
Windsurfing Rigs & boards should be secured when not in use, where possible attached to a board, or in the cage.

 

Teach correct RYA method to raise windsurf sail and set off to reduce risk of back injury, use appropriately sized sail for student.

Explain how to tension rig to reduce potential injury risk. Instructor/ experienced helper to rig sails on first session.
Additional HANSA
A trained SI must

 

check the centreboard pin on the HANSA when centreboard is in down position before sailing. The HANSA boats to be used in accordance with NCSC HANSA SOP which can be found here:RYA centre HANSA SOP and rigging V1 
Additional masthead floats 
A mast with float is strongly advised when Stage 1 or 2 or Level 1 or 2 sailors are on the water, and when towing or water confidence exercises are taking place.
SOP 2 –  Lifting and handling
All participants, helpers and trainers should follow NCSC Safety Policy and appendix on lifting and handling. The instructor should consider the appropriate number of people needed for launching and recovering, especially for the larger trolley launched boats and the power craft. Trailer launched power craft would normally be launched using a vehicle.
SOP 3 – First Aid
Near miss and accidents to be reported on forms in accordance with club safety policy.

First Aid cover must be present in line with current Club and RYA policy

All use of First Aid equipment must be recorded on an incident form and such use reported to the person responsible for restocking of single use equipment by the person administering the First Aid.

SI to communicate any relevant medical information as appropriate to safety cover and the relevant instructor(s).
SOP 4 – Contaminants on CraftIf Blue Green Algae or other contaminated water is known to be present the course must be run in accordance with current NCSC policy and in line with current RYA guidance.
Craft should be cleaned of any contaminants prior to the course commencement.

All participants should be advised regarding regular hand-washing and in particular before the ingestion of drinks or food.
SOP 5 –  Clubhouse and Hub use
The clubhouse and Hub should be used for shelter as necessary.

Suitable hot drinks should be available as necessary. If the galley is not open all participants should be informed of the fact and the need to bring their own beverages and food, other wise food is available from the galley.
SOP 6 – Slipway and shore
Warn of dangers of slippery slipways and shore.

Participants should wear appropriate footwear.

Minimise shoreline hazards by removal of trolleys and equipment to the bank. For inexperienced sailors on-shore catchers should be available where appropriate.
SOP 7 –  Safeguarding
All must follow the current NCSC Safeguarding policy, which is available online with an expectation that this is read.

All involved in RYA training of youngsters and Vulnerable adults should be encouraged to undertake the RYA Safe and Fun course.
SOP 8 – On shore instruction
When instructing onshore the Instructor should take appropriate actions including positioning of participants and use of equipment to minimise hazards.

On First Aid courses, one CPR manakin should be used per person. Which should be cleaned and "lungs" replaced as necessary.
SOP 9 – Sailing Tuition
The RYA method should be used for all RYA courses, ask the SI if you need help. See SOP1.

Areas of sailing should be agreed between SI/PBI/Trainer and other users before starting a training session and communicated to both students,safety cover and instructors.

Radios see SOP 12

To promote confidence and impart appropriate skills consider teaching the principles of capsizing as early as feasible in the course. Instructors must consider using masthead flotation when training to minimise the risk of inversions.

In the event of a incident all powerboats must respond in line with the principles of the RYA Safety boat course.

Reefing should be considered, along with selection of suitable craft and sail size for conditions and participants.
SOP 10 – Windsurfing Tuition
Ensure simulator is carried correctly, set up on a level surface, and only used when supervised by a windsurf instructor. Check tension device and straps. A rope should be used on the front to control movement.

See also SOP 1.
SOP 11 – Sailability
Hoists must only be used by appropriately trained adults. See also SOP 1 & 2.

Use of HANSA Craft is through Sailability co-ordinator
SOP 12 – Power Craft
Kill cords must be used at all times in line with RYA guidance.

 

No on water activity should take place during a course without appropriate on-water safety cover. RYA safety boat ratios should be used (below), and crewed in accordance with club policy.

All power craft drivers must be aware of the propeller position and rotation with regard to persons in the water at all times. On contact with any person in the water the engine should be turned off if it is safe to do so or in neutral..

Only qualified drivers may use the  powerboats. On an RYA sailing courses all drivers are expected to hold RYA Powerboat 2 certificate as a minimum.

A safety boat should on the water and appropriately crewed, for most RYA training this would be by a driver and crew. Instructor courses with experienced sailors should be at discretion of the RYA Trainer.

All craft are safety craft, their secondary purpose is teaching / coaching and all users should keep a lookout for danger at all times.

 

On larger courses, particularly those involving children, an observer onshore in radio contact and a person available to catch incoming children is advisable. There should be a suitable person on shore to 'receive' children.

Radios should be carried by the SI/Shore team, all instructor teams and the safety boat tuned to the designated channel which will be determined at the pre-course briefing – normally channel 37 A/ 1037, unless asked to change to a specific channel by SI.

All boat users must check all the safety equipment, spares, anchor, first aid, fuel and spare kill cords on the boat before use.

 

All refuelling must take place immediately outside of the fuel store and a fire extinguisher to be outside the store before starting, use trolley as necessary for moving fuel. (SOP 2). No naked flames in the vicinity.




RYA Training Activity

Ratio students to safety boat (2022)

Windsurfing

12:1

Dinghy (single or double handed) & keelboats

Up to 6 craft – 1 safety boat, 

7-15 craft – 2 safety boats

More than 15 craft – 3 safety boats
NCSC = Nottinghamshire County Sailing Club; "the club". RYA = Royal Yachting Association
Precis:
The recognition of the Training Centre is vested in the Principal.

The standard of tuition and the safety of all volunteers and students are the responsibility of the Principal with the responsibilities for club maintenance and safety carried by the Executive Committee.

The responsibility for the delivery of RYA accredited courses and line management of instructors lies with the Chief Instructor and Senior Instructor respectively

 

The direct supervision of candidates and equipment falls to the Instructor or Assistant Instructor (with supervision) leading each course

The RYA is responsible as governing body for informing the Principal of any advances or changes in practice relating to the activities undertaken at the establishment

   
The Aims of the Training Section:
Foster a love of sailing, windsurfing and powerboating in a safe, supportive and challenging environment that is accessible to all.

Offer training and RYA qualifications to club members and the community, in order to encourage membership of the club and RYA.

Offer training for people with specific needs making reasonable adjustments as required

Improve standards of sailing and windsurfing generally and provide a pathway to high levels of performance through RYA courses.

Powerboat training to improve powerboat operation, including RYA courses.

Provide training necessary for the development of the volunteer instructors, trainers and coaches so that the above will be achieved.

Ensure all RYA accredited training activities are run in a safe manner with

 

appropriately qualified and experienced personnel in place.

 
Other relevant NCSC policies which are to be adhered to (see here):
Safeguarding Policy

Privacy policy

Safety Policy and Guidance notes (pt 1 to 3)

Equality & Diversity Policy

Data Protection Policy
Administration:
This Operating Procedure is prepared using the relevant parts of the Risk Assessments and from RYA publications and guidance.
All persons involved in the Training Section must undertake to adhere to this document. Those working with children and vulnerable adults must read and comply with the Safeguarding Policy.
Copies of the safety policy and operating procedures will be posted on the Training Room notice board, and be available online.
The club Executive Committee will arrange that all written policy statements together with the Safeguarding Policy for the club will be posted in the Clubhouse and be made available on the club website.  This will be developed from a risk assessment that will be carried out and updated regularly and in keeping with any safety guidelines published by the RYA or other maritime safety organisation.
The Executive Committee will arrange insurance cover for third party liability.
When S.O.P.s are updated a copy will be emailed to all members of the RYA training team identified on Sailing Club Manager,  and all members of the NCSC Executive Committee.
The Accident and Near Miss sheets are located in the First Aid cupboard (in corridor).  Pt 2 of Safety Policy and Guidance Notes cover reporting of incidents. The procedure in case of accident is posted next to the First Aid cupboard and in pt 2.4 of the Safety Policy.
Training course online booking includes information about pre-course requirements, terms and conditions, emergency contacts and a declaration of health problems that may affect participation, the training secretary is responsible for receiving bookings.
The Training Committee should carry out a system of receiving and reviewing course appraisal and feedback. 
RYA Course Material: 
Relevant personal logbooks will be available to purchase or provided as part of the course material to course participants and they will be given information about other relevant RYA manuals.

The items of training identified in the logbook satisfactorily carried out by candidate will be signed off by the instructor or the SI.

Certificates will be issued only when candidates have fully satisfied the standards set out in the relevant scheme and must be signed by the Principal or Chief Instructor or Race Coaches as appropriate. Where required to be registered with RYA the Chief Instructor will register the certificate.

Certificates will be obtained from the Principal / Chief instructor and issued in the name of NCSC.

Records relating to candidates and instructors will be kept up to date by the training section including names, contact details, and emergency contact number, register of attendance, course activities undertaken and successfully completed, Log Books issued and Certificate issued. Record keeping and retention will be in accordance with the General Data Protection regulations 2018 and NCSC Privacy Policy.
Instructors and all others are to adhere to RYA Instructors Code of Conduct; a copy will be displayed in the Training Room and is available on RYA website.
All RYA courses must be supervised at all times by someone who carries the relevant RYA qualification.
For dinghy sailing and windsurfing a Senior Instructor

For powerboating a Powerboat Instructor
Maximum Student / Instructor ratios are in the appropriate RYA publications (the latest RYA guidance should be used and would supersede this if changed).
Craft

Student Instructor Ratio (RYA Guidance 2022)

Dinghy crewed

3:1 for beginners with instructor on board

Max. 9:1 but no more than 6 boats per instructor

Dinghy Single handed

6:1 (applies only whilst the boats are used as single-handers)

Powerboat

Levels 1 & 2 – 3:1

Safety Boat Course – 6:1 (2 Boats)

Advanced Course – 6:1 (2 Boats)

Windsurfing

6:1

 
 

First aid

12:1

 
 
Each powerboat should be checked to ensure that the towing line, bridle, fire extinguisher, knife and paddle are in place.
Role

Responsibility

Principal

RYA Centre Training Committee chair.

Management and overall responsibility for the club's training activities. 

Responsible for risk assessments

The prime interface role with the RYA regarding relevant certifications and operational activity. 

Liaises with Bosun and Sailing Committee ref safety boats and lake equipment and usage as required for training purposes.

Responsible for relevant content of the Sailing Club Manager database system (with Training Secretary)

Signing certificates in absence of CI

Chief Instructor (CI)

Training and professional development of senior/instructors in collaboration with RYA coach / trainer

Informing the training section of changes in RYA or maritime safety specification

Organisation of appropriate student to instructor/safety ratio for RYA courses

Signing of relevant RYA certificates

Updating tags in SCM and checking qualifications

Senior Instructor (SI)

Training and professional development of assistant instructors

Management of instructors during RYA courses

Ensure that teaching best practice is being used during courses

Ensuring RYA and club safety ratios are adhered to

Instructor (I)

Ensuring that course delivery follows the specification outlined in the RYA instructors hand book

Reporting any problems or potential hazards to the Senior Instructor or Bosun

Recommending level of certification to Senior Instructor

 

(where applicable)

Assistant Instructor (AI)

Supervised course delivery but as Instructor, depending on experience.

NCSC Junior Assistant instructor

To gain experience by helping with course delivery.

Race Coaches

Delivery of RYA Racing Schemes levels as outlined by RYA to the specification defined by RYA

Signing of certificates for Race Schemes only as defined by RYA
It is the responsibility of the Instructor (with assistance where necessary from the Senior Instructor and or Chief Instructor) to ensure that course programmes demonstrate adequate coverage of the learning objectives to be undertaken by the students to achieve the certification sought by the individual candidate.
Organisational Structure of the Training Section:
The RYA Centre Training Committee shall be as outlined in AGM documents. It has responsibility for :-
Policy on RYA Training matters

The Annual Plan of RYA Training activities and club powerboat training

Updating procedures, plans and implementing RYA policies as appropriate.

 

Producing lesson plans of the courses taught

Arranging instructors, coaches and helpers

Preparing equipment for the courses

Signing up course members
The list of RYA Certificated courses provided are listed above the bar (on the RYA certificate).
Training Section Finance information is available on request from the club treasurer. Any requests for equipment etc to be through the Training Principal and will be discussed at the Training & Exec committee as required.
Training Room and HUB:
This should be booked through the Training Secretary. Where an RYA course is on the club calendar, this will automatically result in a booking for the Training Room. The Hub to be booked through the Training Secretary.
Safe & Fun which is worth every instructor doing (all new Instructors have to do it)  is available several centres our local one (run by club members) is at