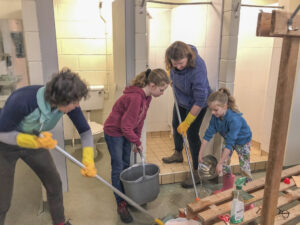 Please come down to help tidy the club for the season
Start at around 9am, but please come down any time, and for any length of time, 2 hours, 4 hours all day whatever you can manage.
Please report to conservatory for assigning to a task and a free voucher from Martin Hart for breakfast tea and bacon cob to those helping (min 2 hours please).
Plenty to do for all skillsets some jobs below (please bring some implements (and mark them) materials will be supplied :
Hedge trimming / ditch clearance (near bosuns store) – Chain/bowsaw, loppers etc
Saplings near bosuns store, pontoons – Spade, bow saw, loppers
Willow coppicing south end of lake – Ross Ryan leading – loppers
Willow coppicing near Bouy 3 – Dean leading
Rocks near waters edge (May need crowbar, wellies)
Car park & road signs sign refix and clean a number etc – screwdriver / drill, scrubbing brush bucket
Benches handrails clean up – scrubbing brush / detergent
Oil benches under clubhouse
Move pile from ditch clearance – gloves
Prune back growth in trailer park – loppers
Repairs to decking – lead G Harper.
Remove rotten planking outside balcony
Touch up hub and paint handrail
Repaint and straighten carefully barrier keypad surround
Retrieve halyard on flagpole
remove ply by F15 berths
Scrub orange windward mark – detergent and scrubbing brush
Appropriate PPE needed for tasks, please bring goggles, stout gloves and anything else for the task. If you are in any doubt ask and be safe.
A full list with photos is on this pdf :